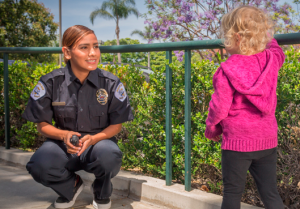 Children get lost every day. So, chances are that eventually it will happen at your business or event. Here's some tips to help train your staff to handle a lost child and how to deal with parents missing their child:
If you find a lost child:
1. Get involved if you see a child who appears to be lost, approach them and ask if you can help them find their parents.
2. Wait with the child until help arrives.
3. Comfort the child but avoid physically touching him or her. Offer to call their parents or to help find them.
4. Ask the child if he or she knows the location his or her parent/guardian. Ask if they have a cell phone number of their parents or another friend.
5. Give the child something to do that will help them take their mind off their missing parents (coloring or reading book, pens and paper, TV or a video or cartoon).
6. Remain in the immediate location, and do not take the child elsewhere. Do not place the child in your vehicle and drive to a different location to seek help.
7. Alert mall security and or police to report the child is found.
8. Do not let anyone remove the child without proving they are the child's guardian with a photo ID (take a copy) and confirm with the child that the person is their parent or guardian.
Parents reporting a lost child:
1. If a parents reports a lost child, immediately ask your staff to help find them within your establishment. Quickly check any dangerous areas of your workplace (near appliances, a pool, sauna, roof or height access).
2. Keep the parent calm and let them know the steps you have in place to help them locate their child.
3. Ask the parents to provide a recent photo or description of what the child looks like and/or what they are wearing.
3. Contact local security and the local police with the description as soon as possible.
4. Ask the parent if the child has a cell phone and/or if they have the phone accessible through find my phone technology. Ask if they had a plan with the child on where to regroup at your location.
5. Suggest the parent or a contact go to their car and monitor it as the child may try to return to the car.  Alert your garage security to be on watch for them.
6. See if you can network with other shops or neighbors who can help find the child or look within their premises.
South Bay Security is the local security authority of the South Bay providing patrolling, security and safety programs for residents and businesses in cities from El Segundo to Long Beach. They specialize in protecting their clients' properties, while upholding the respect and dignity of their clients and their employees, as well as the public.  For more information on their mobile security or full service, contact them at 310-539-3505 or by email. Set up a time to review your security needs and address concerns. South Bay Security is located in the Rolling Hills Plaza where they also provide the security, as well as at many other South Bay locations. Visit their website at: southbaysecurity.com.